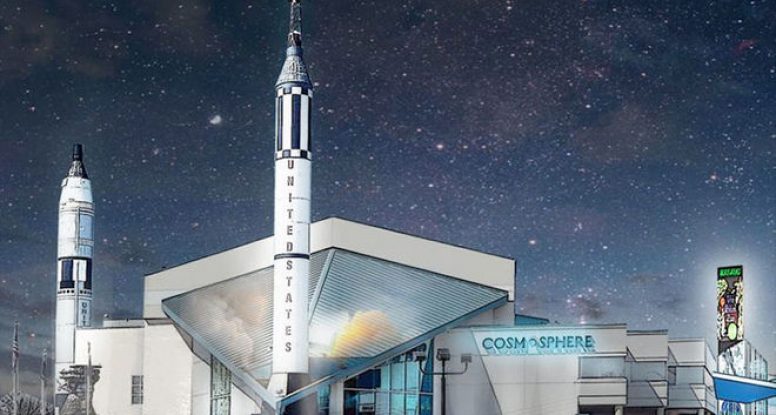 To the Cosmosphere, and Beyond!
I'm on my way to Kansas to hear everyone say "when I was little, this was nothing but corn fields as far as you could see," everywhere I go. But first, a bunch of us authors are Treking from WorldCon in Kansas City to Hutchinson to see the Cosmosphere, what I gather may be the best North American space museum outside the Smithsonian. Anyway, I'm eager to see Hutchinson; I grew up in the same small town in South Dakota.
HUTCHINSON—08/12/2016—A group of Science Fiction authors will take a break from the World Science Fiction Convention meeting in Kansas City next week to travel to the Cosmosphere for a book signing and tour on Tuesday, August 16th.
Several of the authors will hold a book signing at 1 p.m. The authors and their works are as follows:
Rosemary Claire Smith. Smith's latest story is in the April 2016 issue of Analog Science Fiction and Fact: "Diamond Jim and the Dinosaurs". Coming up will be a guest editorial in the November Analog: On the Money.
C Stuart Hardwick. Hardwick is a past winner of Writers of the Future. His latest story is "Dreams of the Rocket Men", a tribute to the pioneers of rocketry in the current issue of Analog.
Daniel J. Davis, Steve Pantazis, and Martin L. Shoemaker were all 2014 winners of Writers of the Future. Daniel's latest story is "The God Emperor of Lassie Point", appearing in the anthology Alien Artifacts from Zombies Need Brains Publishing. Steve's latest story, "The Devil Walks into a Bar", appears in the current issue of Galaxy's Edge magazine. Martin's story "Today I Am Paul" (from Clarkesworld magazine) was nominated for a Nebula award and has appeared in Year's Best Science Fiction: Thirty-third Annual Edition, The Best Science Fiction of the Year: Volume One, The Year's Best Science Fiction and Fantasy, and eight international translations.
For more information about the book signing, contact Janet Fisher, group sales manager, at 620.665.9340.
The Cosmosphere International SciEd Center & Space Museum is located at 1100 North Plum in Hutchinson, KS. Its collection includes U.S. space artifacts second only to the Smithsonian's National Air and Space Museum, and the largest collection of Russian space artifacts outside of Moscow.

It's cool.
Look for followup posts after convention week.