As you consider
those
black Friday deals, consider this: Often as not, digital controls are just bad interface design foisted off on you to save design complexity– at added cost. Knobs are not obsolete just because we have microcontrollers that can be stuck into anything and configured in software–any more than doorknobs are obsolete because we have automatic doors, or wheels are extinct because we have robot dogs from Boston Robotics.
Sure, sometimes those little buttons buried under plastic are easier to clean, and sometimes (like on my dishwasher) they might be close to as simple to use. They are rarely however superior, and seldom worth paying extra for.
Very often, they are just annoying little beepy things you waste snippets of your life poking at when you could have just set the time (or temp, or both), hit "Start" and gotten on with living.
This is good design:
 This is poor design: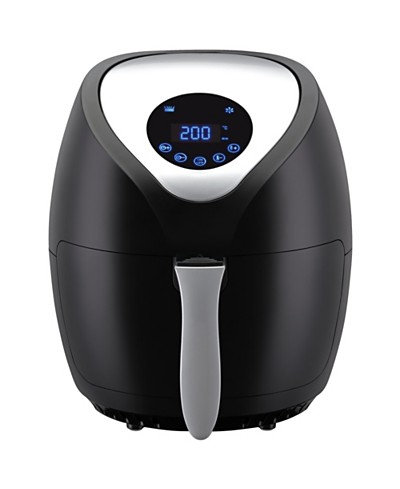 You might like the pretty LEDs — and that's fine. Personal taste is a completely different matter, and you are entitled to your own. But from a design perspective, the correct way to set a temperature within a narrow range is with a knob (or slider). It's quick, intuitive, and easy. The correct way to set an interval within a confined range is also a knob (or slider), and for the same reason. If you NEED to program your air fryer to turn itself on a week from Tuesday at two in the morning, that changes things. But you don't. And if you need to keep splatter out of the controls, that's different too, but unless you're cooking chicken fingers inside a slaughterhouse, that's probably not the case either. Requiring the user to repeatedly press hard-to-read, hard-to-press, buttons to set things by increments that could be set in an instant with a knob–indeed, with hardly a thought or glance–is poor design. And making the buttons beep annoyingly because they are so hard to press the user won't otherwise know if they HAVE been pressed, is also poor design.
Read More

›