A Very Nice Compliment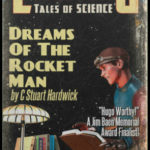 I got a very complimentary note from an editor today who told me "Dreams of the Rocket Man" was in consideration for his best of the year anthology till the very last cut. Of course, I'd love to have made that cut, but I also know there are many considerations in choosing works for a commercial anthology, and a long work from a little known author is not an easy sell.
Oh well. I will just have to become better known. Oh write shorter stories. Or both. Meanwhile, you can still read the story on my sample page, and it's for sale on Amazon.