The Reviews Are In!
I am over the moon (no pun intended) at the reception this story has gotten. It's hard Scifi–as in real-world science and hardware that either actually existed in 1969 or really could have, and it's long–novelette length in an era where flash prevails. I knew when I wrote it that Trevor Quachri at Analog was my first, best, and maybe only market.
But Trevor bought it–Yay! And he put my name on the cover (a pretty big deal, since this is only my second sale to Analog and there are 16 other authors in the issue)–Yay! And he hired the great, Hugo-winning artist, Vincent DiFate to do a full, two page illustration–say what?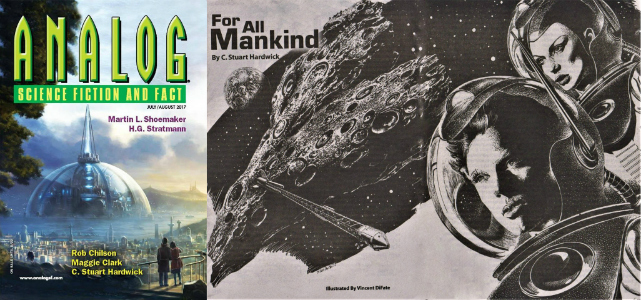 Unbelievable!
And now the reviews are in:
"Meticulous and moving…quite an accomplishment…a Hugo Award worthy story." – Rocket Stack Rank

"Real and well-told…a great story of alternate or secret history. Well done!"​ – SFRevu

"A fabulous, inspirational and beautifully human story … it made me proud to be a woman!" – Diane Prokop

"Enough emotional punch to satisfy anyone…reads like a Heinlein story." – Reader
Wow. And if all that's not fantastic enough, "For All Mankind" in one of two stories chosen by Analog to be excerpted on the website (you can read the excerpt at http://www.analogsf.com/current-issue/story-excerpt2/). Yay again!
A hearty thanks to the folks at Online Writing Workshop who critiqued an early draft, and to Kevin Ikenberry, Oleg Kazantsev, Diane Prokop, Steve Poling, and the numerous others who gave feedback on later drafts or consulted on plot & cultural details. You guys are what make this community rock.
And what about you? Have you read it? Loved it? Hated it? Don't understand how the thingamabobber fit in the whatzerdoodle? Found inaccuracies in my science? In  Vincent's illustration?
Leave a comment.
Leave a review.
Share this post flame on. You're what makes it all worthwhile!