Meet The Winner – Jake Marley
Next in this year's Meet the Winners series, please welcome Jake Marley!
Stuart: Welcome Jake!
Jake: Hi Stuart!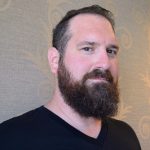 Stuart: Introduce yourself. Tell us something that might surprise your friends.
Jake: Well, I'm Jake Marley, and I'm from Orange County, California. While I think that by now my friends and family know I like to write, I don't believe any of them realize how obsessed with books and stories I am. I'm always reading or writing. Always getting better. I only ever really talk about my stories with my wife, so most people in my life might think it's a hobby rather than an obsession.
Stuart: What do you like to write?
Jake: I'm drawn to the darker side of fiction, but I read voraciously in all genres. I grew up reading comics and Robert Louis Stephenson and Edgar Allan Poe, but the summer before 7th grade I was wandering through the stacks of the Buena Park Library and pulled a book called Skeleton Crew by Stephen King off the shelf. I sat down and started reading the first story, "The Mist", and was hooked. The librarian told my grandma that it was inappropriate for me–it was a month or two before my twelfth birthday, so she was probably right–but my grandma told her to mind her own business and checked it out for me anyway.
Stuart: It's always interesting see see those formative influences. How has that shaped the writer you are now?
Jake: If Stephen King hooked me, living in the same area where most Dean Koontz novels are set really solidified my love of horror and supernatural suspense stories. I could read a Koontz book in an afternoon or a weekend, and then my uncle would drive me around to places where the stories took place in Orange County. It's about as far a cry from the Maine towns of King as you can get in the continental U.S., but I think California definitely has its own weirdness and monsters. I've lived in Orange County my entire life, and I'm still here, writing on my laptop during lunch breaks or when my kid is at school.
Stuart: And you said you drive at night for a living? That sound like spooky territory right there.
Jake: After the bars close it can be terrifying. Just last night, driving through the thick fog on the 405, things cleared up for just the briefest instant and I saw a woman running across all five lanes of the freeway. I slowed and put on my emergency blinkers, but a truck nearly rear-ended me, whipped past on the right, and nearly collided with the woman. If he'd gone left instead of right I think he would've killed her. I've seen people die on those roads. I've seen flipped cars and vehicles on fire and one time there was a party bus on its side with prom kids crawling out of the door and trying to find their way to the ground wearing skirts and heels and rented tuxes.
Stuart: Wow! Sounds like you need a superpower out there!
Jake: (Laughs) Well as a kid, I would've said I'd like the Superman package–flight, strength, laser eyes–and as a teenager I would've killed to be Wolverine, relentless and berserk, but as a grown-ass man I think I'd love the ability to heal others. It's one of the most practical of superpowers, but I think it could do way more good in the world than flight. My wife is a cancer survivor, and I'm the father of a 10-year-old–the knowledge that I could fix their ailments would alleviate so much of my daily stress and worry.
Stuart: Well damn, Jake, that may be the most thoughtful answer I've ever gotten to that question. Now, I know you're up for the Golden Pen, so I won't ask about your winning story. What else would you like folks to know about you?
Jake: I am a book reviewer for ThisIsHorror.co.uk, and I have a monthly column on their website, The Midnight Mix-Tape, where I compile three stories available online that I love and that all fit the same theme and I get to write a little bit about them. I've only had a few up so far, but I don't think I'll stop until they make me. I adore short fiction, and even when I'm not writing it I want to pass great stories onto as many people as possible.
Stuart: I know the feeling, Jake. I just did a promotional anthology with some Writers of the Future alumni, and I remember editing Martin Shoemaker's Nebula Nominated Today I Am Paul and feeling like I was handling Spanish bullion. Well thanks for stopping by Jake, I can't wait to meet you in person—and I hope not on the 405!
Jake: Thank you so much!
---
Check out Jake's column for ThisIsHorror.co.uk at Midnight Mix Tape and follow his other ramblings at jakemarley.wordpress.com/
And of course, tune in in April to see Jake's speech on the live awards telecast at http://www.writersofthefuture.com/