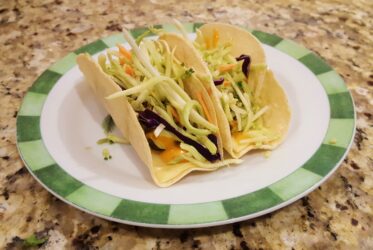 Like a lot of families, the Hardwick household spent a good part of the 2020 pandemic lock-down re-evaluating and adjusting our lifestyle. For us, a big part of that involved food. Kristina hates to cook and I never learned how, so for most of our adult lives, we've eaten far too much frozen or take-out meals. That ended in 2020. I started cooking, at first to take stress off of others and make the most of the foods on hand or readily available, later for health and economy and the too-often neglected in modern life, simple sociability of the evening meal.
I bought a high-quality ceramic coated wok and a Japanese knife of Damascus steel for making stir-fry. I mastered Korean Gyeran-mari (or rolled omelette), and found a new love for ready-made Indian sauces, tofu, and a host of other light and tasty alternatives to the high-fat, high-carb working man's diet our parents learned on the farm and bequeathed us.
We will never go back. I've lost 50 pounds and have developed a striking intolerance for most American convenience food. But of all our improvisations and experiments, none has been as big a hit and made as enduring an impressions as my new go-to lunch, the pandemic taco.
Read More

›