Dreams of the Rocket Man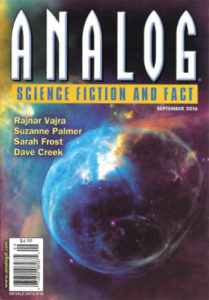 "Dreams of the Rocket Man" is a Jim Baen Memorial Award finalist and a Tangent Online Recommendation. A boy helps fulfill the dreams of a retired aerospace engineer and finds they lead in to his own.
"Hugo Worthy" – SFRevu
"Superb and moving" — Reader

"It's not often that I'm moved to tears by a story about rocket science." – Reader
"This story really reached me. It lives in the zone somewhere between Bradbury's Dandelion Wine, Hickam's Rocket Boys, and Heinlein's Requiem… I felt myself pulled through time as a story that could have been set back in the 50s or 60s slowly moved forward… The effect was like the world expanding, and also growing brighter and less sepia…"
Published in the September, 2016 issue of Analog Science Fiction & Fact.