Meet the Winners – Molly Atkins
Bid welcome, dear followers, to Molly Elizabeth Atkins, 2017 Writers of the Future published finalist, and my guest today on the blog.
Stuart: Welcome Molly! Tell us a little about yourself!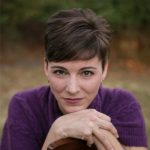 Molly: I live in St. Louis with my husband and two daughters who are 5 and 9 years old. I'm originally from Texas, and I grew up in College Station. That's where Texas A&M University is, so while some kids had summer jobs mowing lawns or working in food service, my summer jobs were things like shelving books in the university library and working in the university's various labs. I always love it in job interviews when they ask what you would do if you were given a task you thought was beneath you because I can just shrug and say, "One of my summer jobs was analyzing animal fecal samples for the Rangeland Ecology department at A&M, so once you've spent a summer grinding poo…."
Stuart: Oh! That might make an impression, all right.
Molly: I also got to help out with some pretty incredible research on water quality and field run-off. Did you know that wetlands and marshes, even those constructed by humans, can be an incredible filter for pollutants?
Stuart: I did. That's my wife's field, and I've been to the restored wetland in the heart of Baton Rouge that cleans the groundwater there.
Molly: Every time I see those little rain gardens folks plant, I geek out a little bit. And don't get me started on precision agriculture, because that is some pretty amazing stuff and I could go on for a while.
Stuart: So what got you into writing?
Molly: I got into writing because I love to read. I used to just baffle my parents and teachers with how much reading I would do. I'd read at breakfast, while blow-drying my hair, in school, under the covers with a flashlight. My parents were a little frustrated. I mean, you can't punish a kid for reading, right?
Stuart: That is correct.
Molly: But when I started reading under my desk in school in 3rd grade, I started getting in trouble. See, I learned that if I propped the book open on my legs with the top tucked under the desk, it almost looked like I was focusing on my worksheets. I thought I was being really sneaky, but I ended up spending a good chunk of 3rd grade in the time out room.
Stuart: Hah! Sneaky.
Molly: That wasn't the only trouble that came from my reading habits. I tend to read, and re-read, and re-read again. But this doesn't work so well when the book you're re-reading is from the library. This was before the days of computer catalogs and online re-checks, so mostly my books were overdue. All the time. By a whole lot. I still have fines on record at my hometown library and at the university library, and the fines are so high and have been unpaid for so long that I am no longer allowed to check out books from those libraries. Yes, I'm banned from all of the libraries in my hometown.
Stuart: Oh no! That's terrible! I made special arrangements with an understanding librarian.
Molly: But all that reading got me thinking about my own worlds. I used to lay awake at night imagining my own stories or imagining myself in my favorite books. I started thinking that writing might be something I'd like to do. I figured I'd wait until I learned how to do it to actually start writing (Ha!) and then I'd write a book. I took a class in college where the professor expressly forbid writing genre, but little bits of magic kept sneaking into my work and getting me in trouble. Honestly, it wasn't until a friend convinced me to try NaNoWriMo in 2014 that I actually began to write seriously. Now, I wake up every day at 5 am to write for a few hours before the kids get up.
Stuart: Well there you go. So where do you write these days?
Molly: My husband and I have bounced back and forth between St. Louis and California. After moving from Texas to St. Louis, where our first daughter was born, we spent four years in Ventura, California, which was amazing. It was a scruffy little surfer town, just perfect. Right on the beach, surrounded by strawberry fields, avocado orchards, and lemon groves, but shortly after our second daughter was born, we had to move back to St. Louis because of work.
Stuart: It happens.
Molly: (Shrugs) Still, St. Louis is a pretty great place to raise kids, and I've found a fantastic group of writer friends here. I never would have guessed that St. Louis would have such a robust speculative writing culture, but there seem to be a lot of us here, and the community is supportive and welcoming. My writers group here has become almost like family, so despite missing the beach and the California lifestyle, I am glad to be in St. Louis.
Stuart: Okay, you know I gotta ask you. If you had a superpower, what would it be?
Molly: Hmmm. This is going to sound super nerdy, but I actually put a ton of thought into this when I was a kid, and I stand by it today. If I had a superpower, I'd want to be able to shapeshift into different animals. I used to imagine this in great detail when I was supposed to be doing homework or cleaning my room. It was right around the time Disney's Aladdin came out, and I had this notion that I would find my own genie and wish for this power. But I had also recently read some stories where people wish for stuff that doesn't quite turn out like they intended, so I got really into the legalese of getting my wish just right so this genie that I would find wouldn't screw me over. I won't go into the very long verbiage of my wish, but trust me when I say that if I ever do stumble across that genie, I'm prepared.
Stuart: Ha ha! That's awesome! Now, just one more thing. Tell me about your winning story.
Molly: My story, "Obsidian Spire" is about a young warrior who sets out on a journey to prove herself. She's been ordered to put to rest rumors that a long dead wizard has returned from the grave to wreak havoc on a valley and its inhabitants, but when she arrives, she discovers that there's more to everything than meets the eye.
Stuart: Sounds cool!
Molly: It's funny because this story just started as an exercise to get to know a side character for a different story. I felt like there was more going on with Varga than I knew, and when I started writing her out on paper, this story just started to grow. I never expected it to turn into a full story, let alone my first publication.
Stuart: Sometimes the best ideas come out that way. Well thank you very much for stopping by, Molly, and I can't wait to meet you in person at a con.
---
Learn more about Molly at matkinswrites.wordpress.com and hear her describe the genesis of "Obsidian Spire" at https://www.facebook.com/WritersAndIllustratorsOfTheFuture/videos/1441380039252330/