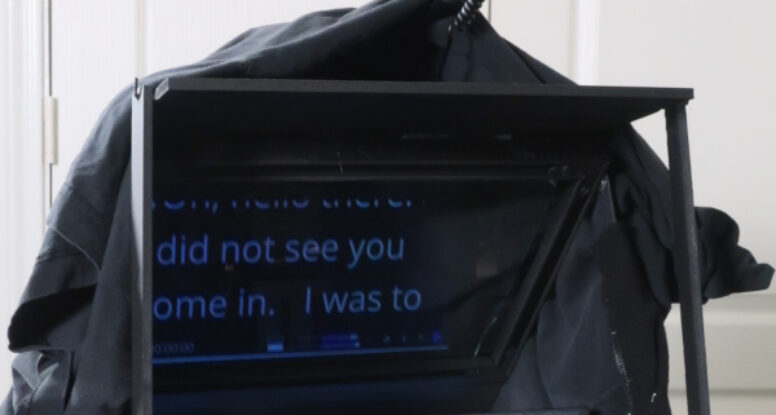 Have Teleprompter, Will Travel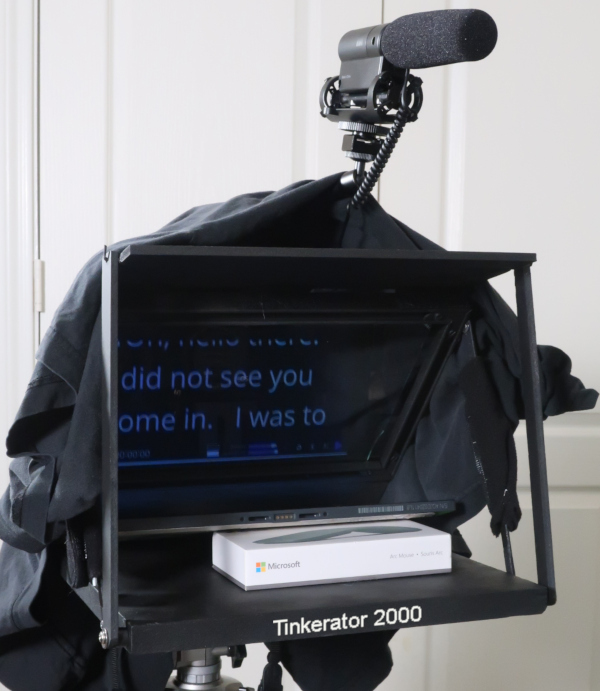 One of the reasons I started my Patreon page was to defray the cost of certain items and services needed to advance my writing career so I can spend more time writing. The impetus for the change was a teleprompter I started tinkering together over the holidays.
Over the years, I've cobbled together all sorts of photographic gear, tools, gizmos, and software–but there is always a consideration of what in business school is called "the make or buy decision." These days, when I start to build or repair or clean or fabricate, a proverbial birdie rests on my shoulder, singing "you should be writing, you should be writing."
Building a teleprompter looked to be a poor use of my time. Cobbling together a usable lighting rig was an even poorer use of my time. Recording my first couple of videos using only the little Canon Powershot I use for appearances–and syncing the video up with audio from an external recorder was….Jimminy Cricket! Like going back to the days of 8mm movie film and splicing cuts with cellophane tape!
But if I'm going to use video to help build an audience, I need a teleprompter so I don't have to waste vast quantities of time and blood pressure memorizing scripts. A teleprompter is a device that lets the camera shoot through a piece of glass reflecting text out to the performer. It lets you address the audience directly without constantly looking up and down and loosing your place or looking like you on a Zoom meeting.
Like a lot of things, the fundamental technology isn't as exotic as it used to be. For one thing, instead of extraordinarily special purpose optics to reverse the text, you can now just install an app on a tablet. And with millions of YouTubers creating a new low-end audio visual market, the special glass that gives teleprompters a bright, clear image isn't as special purpose as it used to be.
Even so, teleprompters are expensive, and the only ones in my price range are only big enough for a cell phone–and my eyesight isn't that good. Finally, about the time I made my Patreon account, I found a deal on a tablet sized ultra simple teleprompter for only $75 and put my order in….and never got it. As of today, it's still officially backordered, but I suspect the deal was just a little too good. The glass alone is worth that price.
So…with both my Patreon and YouTube channels slowly growing stale, I decided to finish up my DIY job and harvest the glass out of the Chinese discount model if it ever actually arrives. And so I give you (Drum roll please), the Tinkerator 2000, DIY Teleprompter!
Featuring solid pine, superglue, a broken certificate frame, odds and ends from the garage that I should have thrown out years ago but as soon as you throw it away you'll realize the one perfect thing you could have used it for, and such hardware as I could not forgo or improvise but could order online during a pandemic.
The Tinkerator 2000 folds flat for storage, features Velcro attached stays to guard against accidental glass shattering collapse, and a luxurious old T-shirt light shade resting atop a deep, Velcro secured top support to guard against stray movie lights.
Videos to follow.