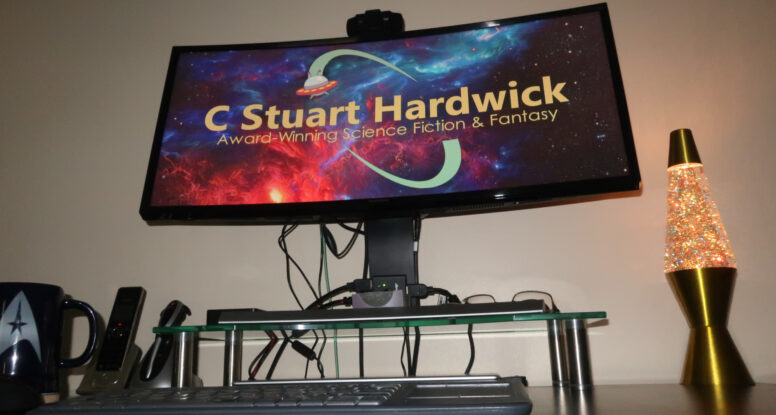 The Best Possible Sit-Stand Desk?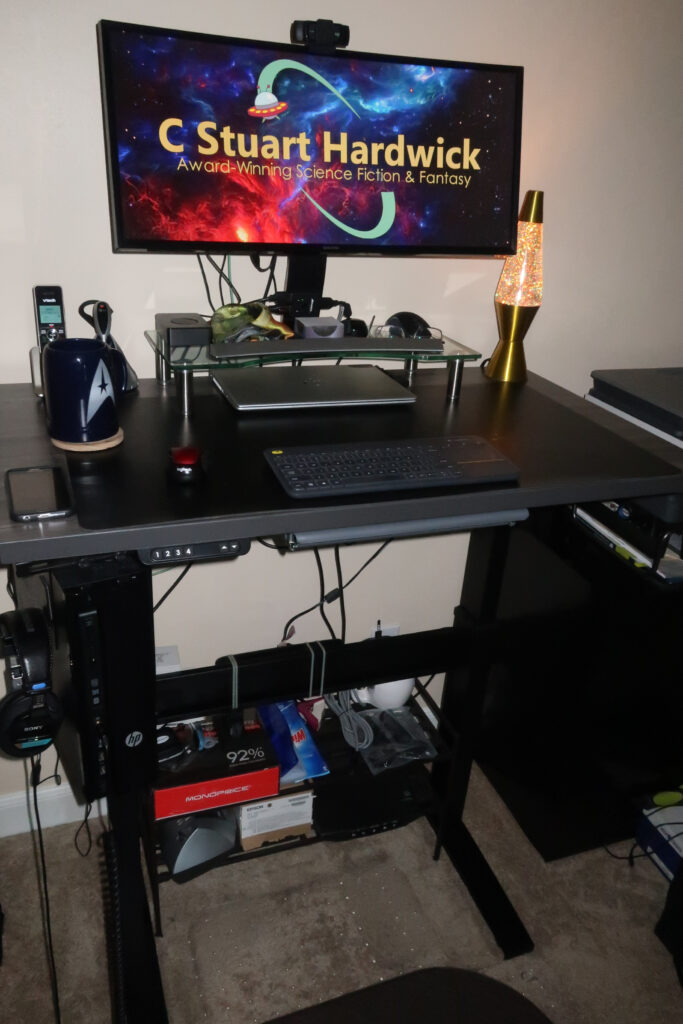 When I started writing seriously back in 2011, I knew the last thing I needed was to start coming home every day from my corporate desk job and spend hours more behind a desk, so instead I learned my craft standing in the bedroom, typing on a little Acer Netbook perched high atop a tall chest of drawers. That worked well enough that by the time I won the Writers of the Future contest in 2013, I was literally wearing out the carpet. By that time, a number of studies had implicated modern, sedentary desk-bound work in a wide range of ailments, so I moved to using a treadmill desk (the construction and improvements to which are documented for you here). The health and weight loss benefits from that change were rapid and dramatic, but hiking all day long isn't good for the body either, so I soon developed the habit of switching frequently back and forth between the treadmill desk and a regular desk with a more powerful computer.
That was fine until I started editing anthologies. As a writer, I have to wear a lot of unexpected hats: maintaining my website, doing PR, finding appearance opportunities, researching markets, graphic design, and many, many more. Now as an editor with zero budget, I was also doing layout, and that meant days at the wide screen monitor on our office desk. The first anthology was enough of a success, we decided to do another, and then we decided to do an audiobook version. And now, in addition to the day job, I was sitting at a desk night after night, editing text and processing audio files until finally, my backside cried "enough!"
And that's how I came to own a VertDesk v3 Electric Sit Stand Desk made by a company called "Beyond The Office Door," or BTOD.
I effing LOVE this desk. I can hardly express how much I love this desk.
At just over 6'1″, I needed the tallest sit-stand desk available, and I needed it to be stable enough to stand up to constant daily use. As a family man, I needed it to be affordable–and to fit within the same small office that doubles as YouTube studio, archive, and gym. Space constraints also meant I needed a desk that moves straight up and down, not one that swings out and up on cantilevers like some other brands. The VertDesk desk fit the bill beautifully. These desks come in several sizes and feature levels, and are available with a range of tops and accessories. I opted for a basic top, 24″ deep and 42″ wide, and an upgraded controller supporting four user-programmable height presets. The whole thing, including shipping and taxes, came to a little over $600.
To this, I added a $25 under mount cpu holder and a $30, 14″ wide drawer, screwed to the underside of the top (BTOD offers similar options, but I happened to have these already). I also added a $25 glass monitor lift–not so much to raise the monitor but to reclaim the space underneath it, which is perfect to stashing my work laptop and keyboard dust cover cloth when not in use.
Assembly was simple and took a couple of hours from unboxing to final adjustments. That's not because the desk took that long but because I have a lot of cables. BTOD supplies some very nicely made cable keepers, but I elected to roll my own. A single power cord runs from a wall outlet to an uninterruptible power supply on the floor behind the desk, and from there to a surge suppressing power strip behind the desk's (non-moving) center rail, secured via four wire ties. From this, one cord runs to the power supply for the desk itself, and another to a small power strip underneath the desktop. These are the only two cords that move as the top raises or lowers (the Lava lamp is added for the photo). Everything else is powered from a small power strip screwed to the underside of the desktop. That powerstrip, the phone, monitor, CPU, USB hub, and other items sitting on or hanging from the top, and all the wiring connecting them all, all move together with the top, with all cabling secured with Velcro or wire ties and always neatly tucked beneath the top.
Pro tip: Cable Matters power cubes (gray cubes, inset) help fit power adapters in, and they easily hang upside down.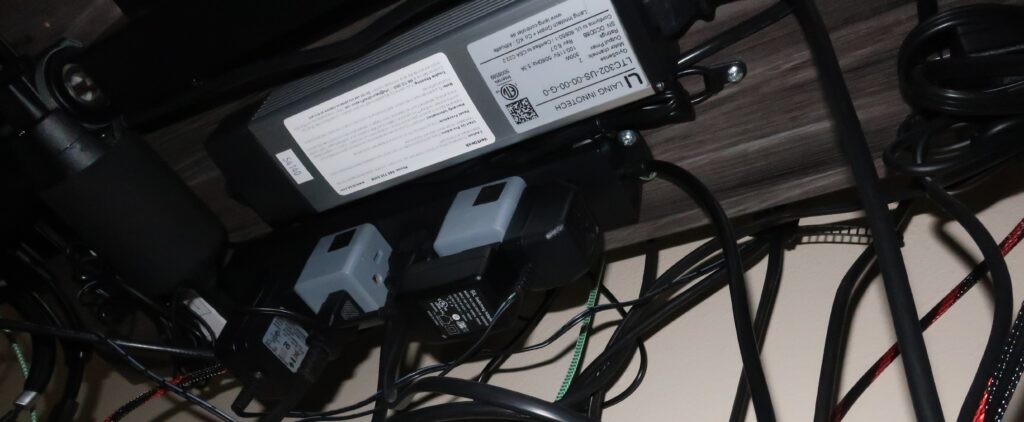 The intelligent design of this desk places the support pillars far enough back to provide plenty of leg room–enough so that I felt comfortable adding an attractive $22, 11″ deep shoe rack beneath the desk and behind the pillars to hold various office supplies. Tall as I am, in over a year thus far, I've never once kicked it or hit the center rail with my knees.
The desk operates quietly and is surprisingly stable, even when fully raised atop a deep pile carpet. A standard plastic chair pad lets me roll up and sit, and a cheap kitchen work mat adds comfort while standing. I just toss the pad where I want it while the desk is doing its thing.
I just can't say anything against this desk. The instructions were clear, the design is intelligent, and the claims made by the company are all accurate. If you are at all interested in owning a sit-stand desk, I cannot recommend BTOD highly enough.
---
Complete Component List:
BTOD VertDesk V3 Electric Sit-Stand Desk
VIVO Adjustable Under Desk Computer Case Holder with 135 Degree Swivel
Three by Three Seattle Drawer Organizer
Trond Surface Mountable Power strip (mounted underneath desktop)
Cable Matters 3-Pack outlet cubes (provider spots for hanging adapters)
SmartDelux Large Powered/Data USB hub (attached behind monitor stand with wire ties).
For connecting wide monitor to work laptop: HDMI Switch * Right Angle HDMI adapter (make sure gender and orientation fit your set up)
Eiito Wire Clips–used to secure wiring securely and semi-permanently beneath desktop (some mounted with screws, most with adhesive pads).
AT&T Marathon DECT 6.0 Wireless Phone Headset
New Bee Dual headphone hook (under mounted with 3M high strength adhesive tape)
Seville Classics Two-Tier Shoe Rack
Sony MDR7506 Studio Headphones (for Audio editing)
Stick on plastic headphone hooks (for hanging headphones beside CPU)
VonHaus Curved Glass Monitor Stand
Curved, Ultrawide, Samsung Monitor (not the exact 2016 model I use)
Compucleaner 2 Electric Pressure Duster
I heartily recommend all of the above products, thought the listed monitor is not the exact model I have (which has served admirably since 2016).