Netflix has a Russian language biopic called "Gargarin: First In Space," which I found terribly disappointing. It should have been the Russian "The Right Stuff," but totally wasn't. And that's a real shame.
Yaroslav Zhalnin plays Gargarin, and is a dead ringer, close enough that in some places, the production cuts back and forth between historical footage and recreation, and you'd never know. All of the cast is wonderful, and the emotions–such as there are–come through believably, even with subtitles.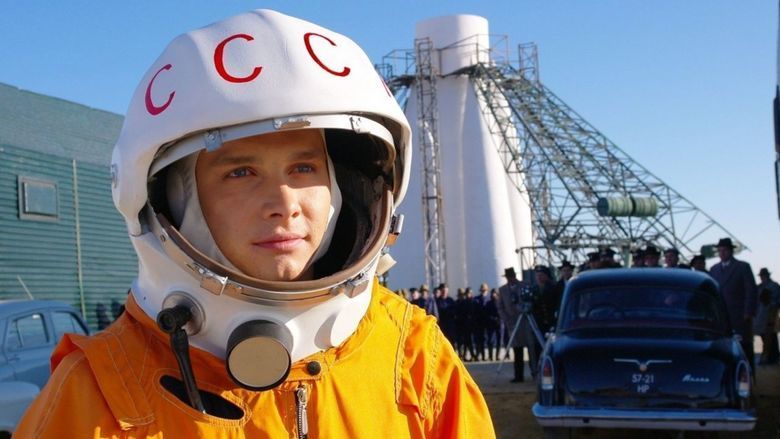 I was pleased that they included (and named) all twenty of the original soviet cosmonaut candidates. Sadly, through, this story was all Gagarin, and either the filmmakers didn't know much more about him than you might learn from a blurb on a trading card, or they chose not to dramatize it.
Instead, the story is pretty much just Gargarin preparing for, then taking his historic flight, with a few flashbacks to his early life. There is a nice scene of him stealing from a German soldier during the war and almost getting his little brother killed, and…that's about it.  The only sources of drama are the (probably fabricated) conflict between Gagarin and Titov, resolved with a last minute hug at the foot of the rocket, and the long suffering silence of his wife, Valentina, "the pilot's wife" played by the lovely Olga Ivanova.
Watching this film, you get the distinct impression that Gagarin only married her because she was pretty, and only was selected to be first in space because he was pretty; senior officers in one scene explain, not very dramatically, how he should be first because some of the other cosmonauts are more fit, and should be saved for the harder, longer flights to come. Really? His staunch party support and photogenic youth had nothing to do with it?
It's sad, because the film should have been so much more. We don't get to see Gargarin plant a ceremonial tree the day before the launch or have the bus to the launchpad pull over so he can take a piss–both on which happened and led to traditions carried on right up to the present day.
There is a brief mention of the passcode Gagarin was meant to be given so he could unlock the controls in the event manual operation was needed, but we don't see the ground technician slip him the code–which we know from history is what happened; the ground crew knew that if he needed it, there would be no time for party officials to approve it. This conflict between party officials and common sense is portrayed, but is watered down to the extent one wonders who they are trying not to offend. At least Gargarin's summary promotion from lieutenant to major (skipping a rank for political reasons) is portrayed.
Another thing they get right is that Gagarin had essentially nothing to do except sit in the capsule until it was done with the flight–then pull the eject rings. As he makes his one orbit, reflecting over his life, we are treated to several shots of his feet, dangling over the tiny porthole like a little boy's from a treehouse.
Which is not to take anything away from him or the flight, but we get no sense of why he had to be the titular "first in space." Instead, we see an attractive kid, an unexceptional but competent pilot, and his winning smile. We get no sense of anything that made him exceptional, either as a pilot, a cosmonaut, or a political envoy, we don't see his post-flight drinking or infidelity (we don't get to see him climb out the window) and we don't see his fight to be allowed to return to the air, or subsequent crash and death (which would be where the real drama and tragedy lay).
We also don't see cosmonaut candidate Valentin Vasiliyevich Bondarenko carried out in a body bag after his training accident, the drunken encounter that got Grigory Nelyubov booted from the program (later to commit suicide) or the state political revisionism that saw the famous photo of the Sochi Six–after the other fourteen cosmonaut candidates were airbrushed out of the photo–and history.
So…the effects are excellent and the performances are good for what they have to work with, but all in all, "Gagarin: First in Space" comes across as a fluffy bit of post-Soviet nostalgia that does a profound disservice to the genius and sacrifice behind Gagarin's historic flight.